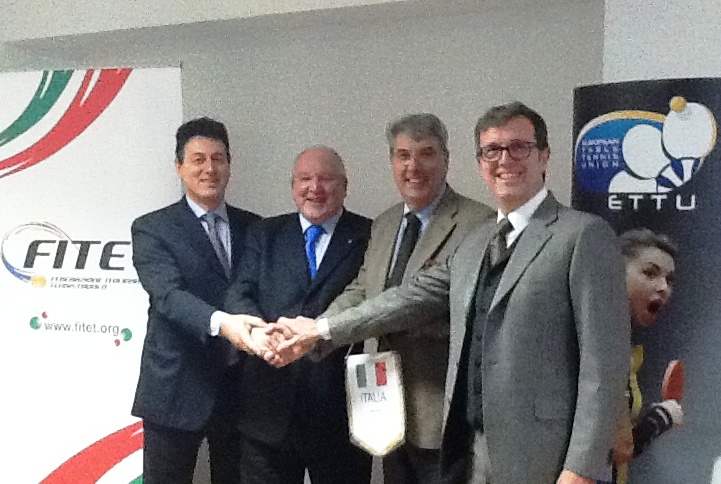 L'ETTU, Unione Europea delle federazioni di tennis tavolo, il cui Executive Board si è riunito oggi a Riva del Garda, ha accettato ed ufficializzato la candidatura dell'Italia e della città del Garda Trentino, presentata dalla Fitet, per organizzare i Campionati Europei Giovanili 2014, dall'11 al 20 luglio. L'Italia ha organizzato questo appuntamento, il più importante a livello continentale e secondo per numero di partecipanti soltanto ai Campionati del Mondo senior, già in diverse occasioni l'ultima delle quali nel 2008 a Terni. La candidatura è stata presentata all'Executive Board dell'ETTU presieduto dal Presidente Europeo Stefano Bosi, dal Presidente della Fitet Franco Sciannimanico, dal vice sindaco di Riva del Garda, Alberto Bertolini e dal Presidente di Ingarda Trentino spa, Marco Benedetti.
Durante l'esposizione, arricchita da un video di promozione della località gardesana e da una serie di slides illustrative di tutte le caratteristiche della proposta, è stata sottolineato come la grande vocazione sportivo-turistica di Riva del Garda si sposi benissimo con la consolidata tradizione organizzativa di eventi internazionali della Fitet. Al termine di una breve analisi riservata, i componenti dell'Executive Board hanno accolto la candidatura italiana ed augurato buon lavoro a tutte le componenti che lavoreranno all'evento.

Nella foto da sinistra Benedetti, Sciannimanico, Bosi e Bertolini

A seguire pubblichiamo il comunicato diffuso a livello internazionale dall'ufficio stampa ETTU.
European TT Youth Championships are back to Italy in 2014, with Riva del Garda (Trento) hosting the event on July 11th-20th, , 2014. ETTU officially allocated the event during today's Executive Board meeting running in Riva del Garda.
Riva del Garda is a small and picturesque town situated on the Northern shore of Garda, Italy's largest lake. The town, surrounded by mountains whose slopes blend into the deep blue water of the lake, is placed in Trentino, a beautiful Northern Italy region. Riva is a well connected destination with the airports of Verona, Milan, Bergamo, Treviso and Venice, but also very easy to reach by car from all Central Europe.
The Mediterranean blends with the Alpine, this is Garda Trentino, an unique, wonderful territory that grace oh his heterogeneity beats a large variety of sport activities. In general the whole magnificent territory is the perfect scenario for riding a Bike, or walking or Nordic Walking. Garda Trentino gained a considerable experience in big sport events' organization, whose most relevant in 2013 are Bayern Munich football club's summer camp and Saling Word Championships (Optimist class), both to take place in Riva del Garda.
Garda Trentino and the Italian Table Tennis Association (FITET) have finalized a long-term cooperation agreement, with the aim to endorse Riva del Garda and the whole Northern Garda area as a familiar place for table tennis players and fans. According to the project's goal, European Youth Championships represent the climax of the first two-year cooperation to definitively affirm Riva del Garda as a perfect TT place on international scale.
Playing facilities consist of 26 courts (including 2 show-courts with around 1200 seats) and 26 practice tables. The organizers will offer National Associations special opportunities with special packages for teams interested to an early arrival to refine preparation on the spot.
The training stages period has been set from 1st to 10th of July, 2014.
"Riva del Garda candidature perfectly fitted to our need. Italian Association and Garda Trentino organization have to do a heavy job, but we're very confident to have a successful event", ETTU President Stefano BOSI said.
"We found a perfect feelng with Garda Trentino – Italian TT Association President Franco SCIANNIMANICO added – and I believe this being one of the most beautiful place where such event can take place".
Marco BENEDETTI, President of Garda Trentino Tourist Office, showed great enthousiasm: "Table tennis can feel at home here on Garda lake". Alberto BERTOLINI, deputy major of Riva del Garda, summarized: "We'll surround TT family with a great hospitality. Our city is very used to host international guests, table tennis is more than welcome".